Is it just me, or are you finding it harder and harder to keep your students motivated in class this school year? I am knee deep in our end of the year test prep and I feel like I have to put on a full-on performance to keep the kids' attention. I have done virtual escape rooms and so many fun things with Google Slides! It always gets harder this time of year, but this year is different. Do you feel it too?      
We are 100% face to face teaching and have been since the beginning of November. Our school has been very diligent about students and staff with symptoms staying home. It is so hard for students to transition back and forth between the time spent learning and working at home and at school. Teachers also have to compete with warmer weather, sunshine and spring sports. And to be honest, I get it. I'm tired too. This year is completely overwhelming and everyone is doing their best. Even our students. (most of the time, haha!) 
Every spring, I gear up for our state testing and look for meaningful and fun review activities. I have rounded up 4 of my favorite digital math activities for Google Drive that my students love! That's right, these are tried and true ways to get students engaged and practicing a range of essential math skills! These are sure to get even your most reluctant students to enjoy end of the year test prep! Even this year!
Spring Themed Math Riddles
These are always a big hit for math centers! I usually assign one or two slides at a time by making a copy of just the slides I want in a separate Google Slide presentation. Then I assign that from my Drive. I have even had students ask me to send them more so they can have some to work on at home over the weekend (gasp!) Students have to solve a problem to get a letter. Each letter helps them find the answer to the riddle. They love it!
These math activities include: fact families, place value, 3 digit addition and subtraction, multiplication, expanded notation, number patterns, decimals, fractions, graphing, counting money, and number grid work for number sense.
Place Value up to the Hundred Thousands Place
This math set is great for reteaching and reinforcing number sense. It covers standard form, expanded notation, and written or word form and serves as good practice for students that need to strengthen that foundation. I like to break the Google Slides up into smaller pieces for this set, just like the set above. There are 17 interactive slides so you can really stretch this one out to make it last as long as you need!
Students practice place value in so many ways with this set! There is no way they can get bored and complain! Bonus: The printable version is included!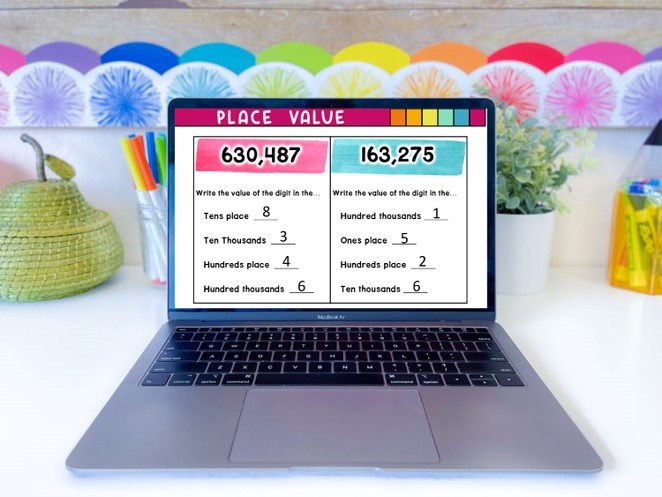 Multi Step Word Problem Task Cards
I love how versatile these are! I have used these digital task cards in so many ways: projected them on my whiteboard for whole group instruction, assigned a few slides as a digital math center, exit tickets, etc. Word problems are so tricky for students. We practice visualizing what is happening in the story and reading each problem at least twice.
Students are asked to solve word problems with addition, subtraction and multiplication. In my experience, you can never have too much practice with word problems! Bonus Alert: the printable version is included, too!
Graphing Activities for Bar Graphs, Pictographs & Line Plots
Teaching and reviewing graphing can be intense. The wording of the questions can be tricky for students to understand, and the difficulty of the questions range from SO easy to SO hard. I also break this set up into smaller Google Classroom assignments. I have used them for partner work, math centers and whole group instruction projected on my smartboard. This set is actually a bundle of three resources, so it is huge!
I love this resource because it includes all the graphs and all types of questions. The students love this resource because the topics are relevant to their lives. There are drag and drop pieces to answer some of the questions. Students even get to create their own graphs, and we all love that!
I love these sets of Google Slides math activities because I can break them up and assign only the slides I choose. Its so easy to differentiate and get students opportunities to practice on the skills they need and for students with special needs or IEP goals.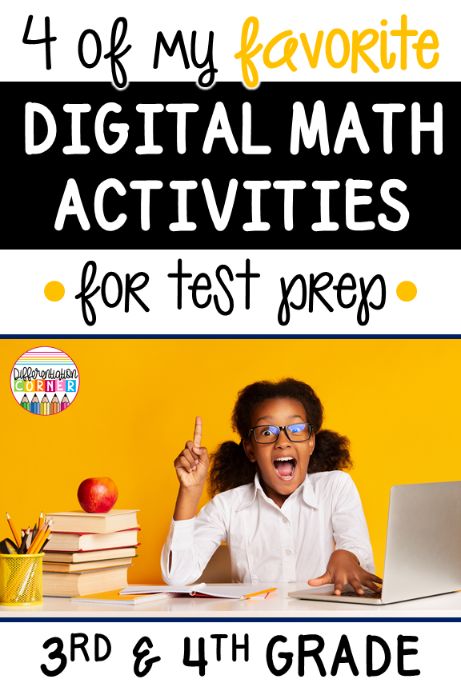 I hope that this has helped take some of the stress out of the end of the year test prep. This school year has been hard enough on all of us!