Sunflower Classroom Decor: As teachers, we spend so much time in our classrooms. Our students do too!  You deserve a beautiful and functional space that makes you and your students smile every time you walk in! Sunflowers are perfect decor for a bright and fun classroom theme! This style is easy and cozy for any grade level with wood and burlap country accents! You won't believe how easy it is to create your own DIY Sunflower Classroom Decor! Check out these organization and decor tips below! Find a sweet freebie at the end of this post!
Choosing Colors for Your Sunflower Classroom Decor Theme
Stick with 2 or 3 main colors. Yellow and ______ . Yellow looks great with blue, brown, or black and white. Having only a few colors will really make your theme look cohesive and thought out. My district let me spray paint my file cabinets! How cute would bright yellow file cabinets look in your sunflower classroom?!? It is definitely worth checking out. I also spray painted all of my Sterilite plastic drawer units to match!
Sunflower Theme Classroom Props and Decor
Pick up a few bunches of silk sunflowers at the dollar store. You can use these at the ends of banners, as curtain tiebacks, on the corners of your whiteboard, as a bulletin board border, in a vase, etc. Here are a few other fun things I found at the dollar store to use: yellow tissue paper poms and tassels, yellow metal buckets for organizing, burlap ribbon, picture frames for my posters, and tiny fake potted plants!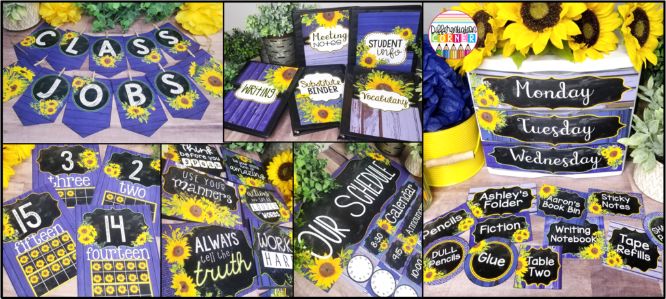 Bulletin Board Ideas
Sunflower classroom decor bulletin board backgrounds can be fabric like denim, burlap or a plain color that matches your theme. You can even use paper that is printed to look like shiplap or wood planks to dress them up a bit! (Wrapping paper is often a cheap choice and easy to work with!) Bulletin board borders can be sunflower vines, burlap fabric or tissue paper bunched up, or traditional borders in a matching color. 
Organization
To organize your sunflower classroom decor theme, think editable classroom printable resources like supply labels, banners, binder covers and more! I love sunflowers SO much I have created 3 different sunflower themed classroom decor sets! I really can't decide which one is my favorite! If you're having trouble deciding, too, download these free classroom posters in the Modern Sunflower Farmhouse Classroom Decor Theme and check them out!  I have more freebies in my Teachers Pay Teacher's store for each set!