Teaching Bar Graphs in 3rd 4th & 5th Grade – Graphing In Math Lesson Plan Ideas
Teaching graphing in math can be fun because the lessons are so interactive and engaging! Students love to share about themselves and listen to their classmates and collect data to create colorful bar graphs. I love watching their minds light up as we create large graphs as a whole group on chart paper. And all teachers know that kids learn best when they have a personal connection to the content of the lesson.
A Note on 3rd, 4th & 5th Grade Bar Graph Complexity
By 3rd, 4th or 5th grade, kids have already been introduced to charts and graphs. They have created and analyzed a few different types of simple graphs. When you are introducing your graphing unit, it is perfectly acceptable to activate their prior knowledge with a simple bar graph they are already familiar with. As you move through your lesson plans in upper elementary, bar graphs should become more complex in a couple of ways.
One way is that the bars become scaled. That means that the intervals along the bars are valued at more than one. The height of the bars go up in intervals of 2s, 5s, 10s, 20s and more! Really any milestone number can be used for an interval. Sometimes students are even asked to estimate the height of the bars on a bar graph and draw in missing bars on bar graphs.
Another way charts and graphs get more complex in upper elementary is that students are asked to analyze the bar graphs much more closely. The questions are now multi-step and ask "how many more" and "how many fewer." 3rd, 4th & 5th grade kids are even asked to add all data points on bar graphs together sometimes! They always look at me in disbelief when these come up!
Graphing Vocabulary Words in Math
It's important to use academic language students will encounter on standardized tests and in later grades. This helps them build on their current knowledge from previous years. Sometimes teachers feel like they need to simplify the language and leave those words out to help students understand. But I promise you that students will learn them if you use the words often in meaningful ways.
I don't know about you, but I always have to look up to be sure about the darn X Axis and Y Axis! I can never keep those two straight. I display this bar graph anchor chart "for students" on my bulletin board. Wink, wink. (It helps us all!) Here are the important bar graph math vocabulary words your students need to know:
Categories– different groups being compared
Data– a collection of information
Interval– the space between each value on the scale
Label– tells you what each bar means
Scale– the numbers on the Y axis
Title– what the whole graph is about
X Axis– horizontal axis
Y Axis– vertical axis
Ideas for Bar Graph Topics in 3rd, 4th& 5th Grade
Since graphs have to be more complex for older students, the topics and questions need to be more sophisticated. This allows the numbers to be larger to make scaled bars and the data to be analyzed in multiple ways. In my classroom, every student has their own Chromebook. I tend to have each student or group look up a quick fact to add to our bar graph chart. I find this to be an easy way to incorporate real world math into the classroom.
The average weight of different zoo animals. (in pounds: giraffe, elephants, rhinos, hippos, zebras) (in grams: salamanders, crested geckos, tarantula, poison dart frog)
The average rainfall or temperature of popular cities or travel destinations receive. (Chicago, San Diego, St. Louis, Detroit, New York) (Disney World, Disneyland, Grand Canyon, Yellowstone, Myrtle Beach)
The amount of calories in foods they like. (pizza slice, medium slushie, glazed Krispy Kreme doughnut, Big Mac)
The average time spent on screens at given ages.
The average temperature of a given state or city.
How many points earned by famous sports stars in one game or season. Forgive me, I'm not even close to a sports buff! (Michael Jordan, Babe Ruth, Kobe Bryant)
Other sports statistics! (batting averages, yards ran, touchdowns, field goals)
Their personal fluency scores. This wouldn't be a graph I would do for the whole group. Each student could create their own.
The class' favorite movie lengths in minutes.
How many pages in their favorite books
How much do their backpacks weigh?
Time to Analyze and Interpret Data Bar Graph Questions for 3rd, 4th & 5th Grade
Here are some complex graphing math problems you can ask to get your students understanding bar graphs at a deeper level.
How many calories are in a _______ and a ______ ?
How many fewer calories are in a _______ than in a _______ ?
Pick your three favorite foods on this bar graph. How many calories in all of them together?
How many points did _______ and _______ earn together?
How many grams does a _______ and a ______ weigh together?
How much do all the animals weigh together?
How much longer in minutes is _____ & ______than _____ & ______ ?
Which movie is 16 minutes shorter than _______ ?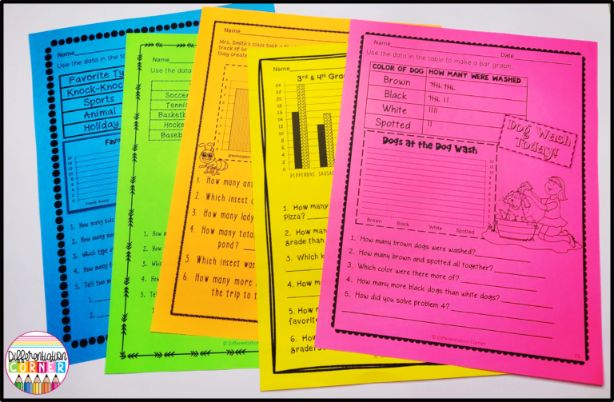 Time to Apply Those Graphing Skills in Small Group or Independently
Now that you have discussed bar graphs at length in whole group, it's time for students to apply their new graphing skills! I suggest having students work in small groups or partners at first. This helps keep the discussion going and kids have to explain their thinking. All of this helps deepen their understanding of the concept. In this case, bar graphs!
The first step is collecting data and creating their own bar graph. My graph worksheets have a set of data for students to use. Students will need to fill in the title and labels. Then students can use different colors to create each bar on the bar graph according to the data that was given.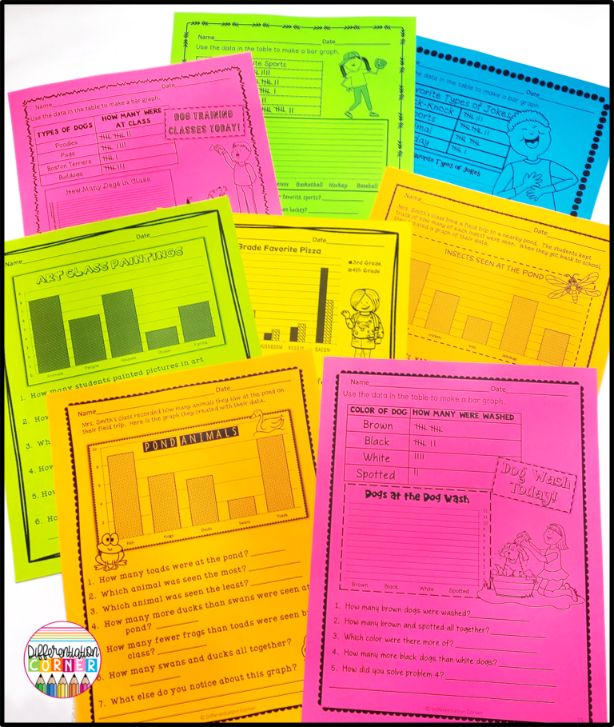 The next and most complex step is to analyze and interpret the graph. My worksheets for bar graphs begin with easy questions and end with more challenging questions. Some bar graphs worksheets even have students create their own questions.
These graphing task cards are great for math centers or small groups!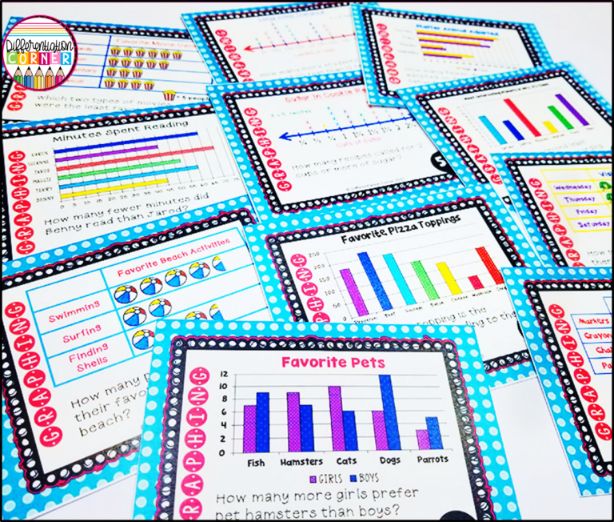 Graphing in math is so much fun! Kids get to be so involved and can be highly engaged in the whole process! Leave me a comment and tell me how you teacher your 3rd, 4th or 5th graders bar graphs!