Are you doing neutral boho classroom decor this year? This beautiful classroom theme is so popular for back to school classroom decor 2022! I have fallen hard for these soft neutral colors and this modern boho theme with geometrical shapes, earthy colors, and natural textures. Boho classroom decorations are not distracting and gender neutral. The warm and welcoming feel of a boho classroom is just unbeatable and perfect for learning and will never go out of style! I hope this blog post helps you with boho classroom ideas!
How to Make a Boho Classroom
What are boho colors for classrooms? Use a soft, neutral color palette. Boho colors are browns, beiges, tans, oranges, and are often accented with jewel tones and metalics. Boho colors are mostly rich and warm, but fun plant colors are used as well, like: turquoise, greens and blues. Boho style is nature inspired and relaxing with clean and fresh vibes.

What is Considered Boho?
Bohemian style decorating is carefree and fun with lots of layers and textures. There are no hard fast rules for boho classroom decor. Boho classroom themes can be modern, minimalist and simple. Add some natural texture with tassel garland, strings of wooden beads, and macramé wall hangings. Let's be honest. The boho classroom decor theme has to be one of the easiest classroom themes when it comes to decorating. Less is more, and any neutral colors will work.
Boho Classroom Posters
These boho classroom posters are so calming with their rich boho classroom colors and a touch of sparkle with warm brown glitter accents! They will add boho vibes to any learning environment. These functional boho classroom posters are great for learning spaces in elementary classrooms! The boho classroom decor pack includes alphabet posters, boho classroom rules, numbers posters with ten frames, and a number line.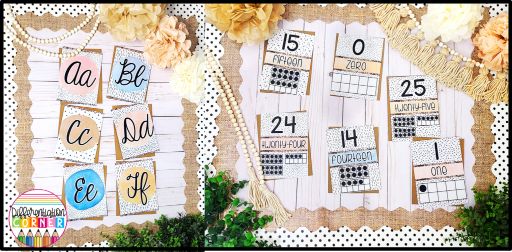 Boho Classroom Bulletin Boards
Bohemian style bulletin boards are easy to manage with this modern boho classroom decor pack! Use ivory or beige shiplap paper, fabric with random black dots and spots, or kraft paper for your boho bulletin board background. Boho classroom borders can be burlap, shiplap, or any neutral boho color that accents your display. Ive even seen fringe printed on bulletin board border! Remember that boho classroom decor can be simple and minimalist, so you can work with what you have and stay within your budget.
This boho classroom decor bundle has so many bulletin board ideas perfect for back to school! It comes with a classroom calendar wall display, daily schedule cards, classroom jobs chart, boho birthday bulletin board, and a word wall. You can even use the editable pieces from each boho classroom decor printables sets to create your own bulletin board.

Boho Classroom Organization
I have never been so motivated to organize my classroom paperwork and supplies!
These boho binder covers turned out gorgeous! I love the added sparkle of glitter. Im a sucker for shiny and sparkly things!
More Boho Classroom Decor Theme Ideas
Boho is such a popular classroom theme and it can be pretty easy to pull off with its modern simplicity and minimalistic vibes. Here are a few more boho classroom decoration ideas.
Black pocket charts seem to be easier to find than neutral colors and they look better than the common bright blue.
Boho classroom rugs can be any solid neutral color that will accent your decor theme making them cheaper and easier to find.
Use the editable banners in the boho classroom theme pack for an adorable boho classroom door!
Brown and black can go together. I know, I know. Some of us "seasoned" teachers are old enough to remember when it was a big no no to put brown and black together. But in boho classroom decor, it really seems to work!
Looking for more classroom inspiration?
Check out these blog posts about classroom decor!