Hello, fellow educators and creative classroom enthusiasts! Today, we're diving headfirst into a world of color, customization, and pure classroom magic. Get ready to explore the wonder of our Confetti Rainbow Classroom Decor Pack—a game-changer that will transform your space into an inviting, welcoming, learning space.
Why Go with Confetti Rainbow Classroom Decor?
Let's talk about why this confetti classroom theme is the go-to theme for creating a classroom theme that students will absolutely adore.
Confetti is like a party on your walls, and who doesn't love a good party? These bright, cheerful colors create happiness, positivity, and a sense of togetherness. Plus, research has shown that vibrant colors stimulate creativity, increase engagement, and make learning more enjoyable.
Fostering a Creative and Peaceful Learning Environment
This rainbow confetti classroom theme has a rich and bright colors. The colors and patterns in this decor pack makes the classroom welcoming and fun but not overwhelming.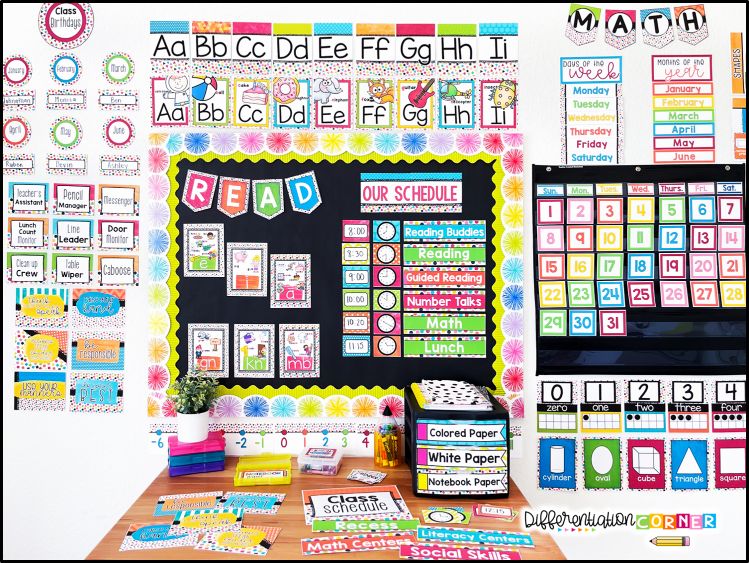 A Closer Look at Our Confetti Rainbow Classroom Decor Pack
Now, let's delve into the goodies that our Confetti Rainbow Classroom Decor Pack includes to spruce up your classroom:
These editable banners make the perfect accent to any bulletin board, hallway, windows or any other classroom project you can think of! Add your own text or use them as decorative banners!
This rainbow classroom decor bundle comes with tons of ways to keep your classroom organized and beautiful!
Keep everything in its place with these multipurpose classroom labels, tags and posters set!
Keep your teaching materials and important paperwork organized and stylish with our binder covers and spines. Say goodbye to the plain and hello to the vibrant! These adorable binder covers will help motivate you and your students to stay organized all year long!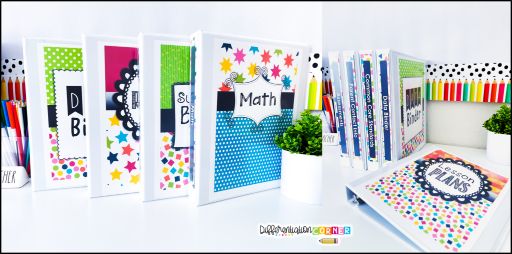 Functional Flair
While creating any of my classroom decor elements I think about how each piece can serve a purpose. Add confetti-themed elements to your calendar, bulletin boards, and learning centers. These functional pieces double as engaging decor.
Use this fun daily schedule display to keep your daily routine on track. They help students anticipate what's coming next, reducing anxiety and creating a sense of security. This is the perfect schedule cards template!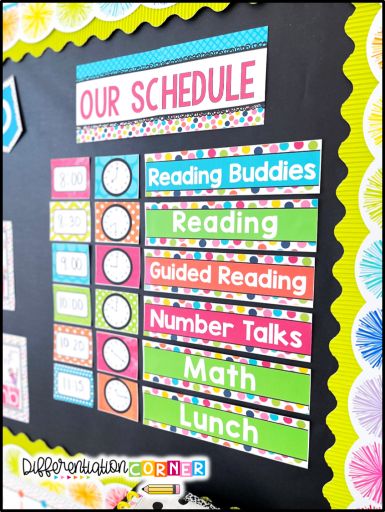 Setting clear expectations is a breeze with these colorful confetti rules posters. They're not just rules; they're colorful reminders of how to create a respectful and productive learning environment. AND they're editable so you can create the best classroom rules for your students. You can also create any other classroom posters you need with this set!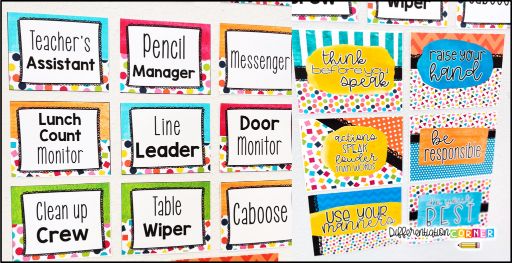 This confetti classroom jobs chart is perfect for classroom management! It comes with over 100 classroom jobs ideas to choose from! Encourage responsibility and teamwork with this bright classroom jobs set. It's a practical way to keep your classroom running smoothly by assigning students tasks throughout the school year.
I love how this classroom calendar wall kit turned out! Calendar math morning routine is one of my favorite times of the day. It's an interactive way to teach days, months, and concepts like weather and holidays and so much more!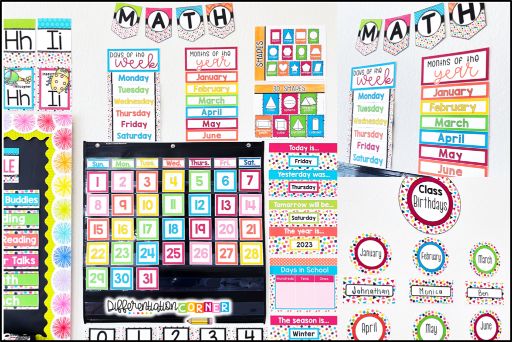 Confetti Birthday Display: Celebrate your students' special days with this birthday display. It's a burst of joy that will make every student feel special on their big day.
No more "inside voices" guessing games! This voice level chart makes it crystal clear when it's time to whisper and when it's time to speak up.
Use the confetti classroom theme word wall to expand your students' vocabulary and help spelling those tricky sight words. This sight word wall comes with over 200 high frequency words students can use in writing and to build vocabulary. These letter tags and sight words all come in both print and cursive.
Make phonics fun and memorable with these confetti phonics posters. They're a visual aid that helps your students with spelling all year long. Ive created posters for the science of reading vowel valley, silent letters, r controlled vowels, and consonant blends.
Customization: Unleash Your Inner Decorator!
Now, onto the fun part—customization! This Confetti Rainbow Classroom Decor Pack is designed to be as flexible as your teaching style. Many of these resources come with an editable template to create your own confetti classroom themed elements so your classroom looks cohesive and stays FUNCTIONAL!
Time to Decorate and Elevate!
There you have it, educators – your golden ticket to classroom decor greatness! Our Confetti Delight Decor Pack is your passport to an environment that's not only inviting but also engaging and filled with endless opportunities for learning. The full printable classroom decor bundle is available in my TpT shop. You can also grab many of the resources individually if you dont need the entire bundle.
I'd love to see photos if you chose this theme for your classroom! Tag me on instagram @differentiation_corner.