Do you love highland cow decorations and functional classroom decor?
As a teacher, you understand the importance of creating a classroom environment that fosters learning, creativity, and a sense of belonging. One way to achieve this is through thoughtful and customized classroom decorations. Cow print classroom decorations, with their neutral colors and charming patterns, can transform your classroom into a warm and welcoming space that promotes a peaceful and productive learning atmosphere.
Today I'm sharing ways you can you can customize cow print decor to suit your classroom's needs while adding a touch of whimsy and modern farmhouse style. But that's not all! I'm also offering free cow print bulletin board borders! Keep reading for the details.
The Magic of Cow Print: It's So Versatile
Why cow print, you ask? Well, the real question is, why not? Cow print is the unicorn of the decor world—it goes with everything and adds a dash of rustic chic to any space. Its neutral colors make it an excellent choice for any grade level, from kindergarten to high school. You can even add cow print to your farm theme classroom, cowboy classroom theme, or farmhouse classroom.
Utterly Chic Cow Print Desk Accessories
Even your desks deserve some love, and cow print desk accessories are here to provide it. Consider items like pencil holders, file organizers, and desk nameplates featuring cow print patterns. These small touches can make your classroom feel more personalized and enjoyable for both you and your students. And your classroom will be as organized as a cattle ranch on a crisp morning.
Cow Print Desk Name Plates- Do your students need desktop helpers? Or just nametags? Fun fact: these cow classroom name plates can be used for ANYTHING! These name tags are exclusive to the cow print classroom decor bundle!
Cow Print Teacher Toolbox labels- perfect for all the little things that can clutter up your teacher desk. Perfect idea for teacher desk organization!
Cow Print Classroom Labels for All the Things
Organization is key to maintaining a peaceful and efficient learning environment. Use cow print labels for cubbies, storage bins, and classroom supplies. These labels not only keep things in order but also add a touch of charm to your classroom decor. Because nothing says "this is where the crayons live" better than a cow print label.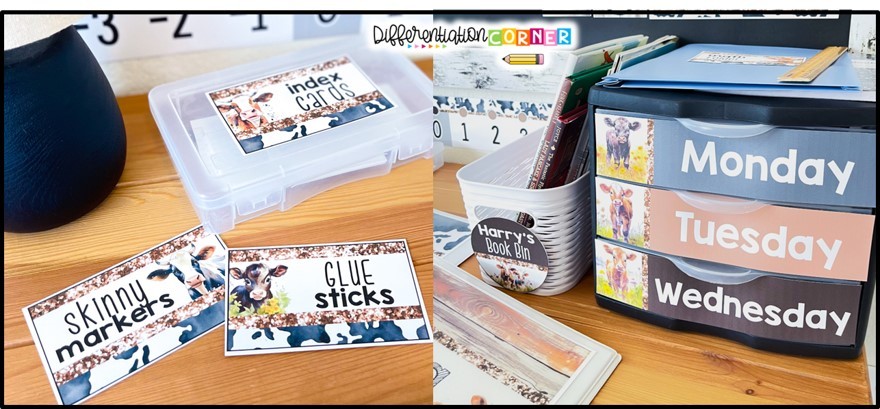 Cow Print Daily Schedule Cards Display
Keep your classroom on track with these adorable cow print visual daily schedule cards. This editable cow print daily schedule template is easy to edit and make it your own! It's a functional decoration that helps students stay organized while adding fun cow print and those adorable fluffy highland cows!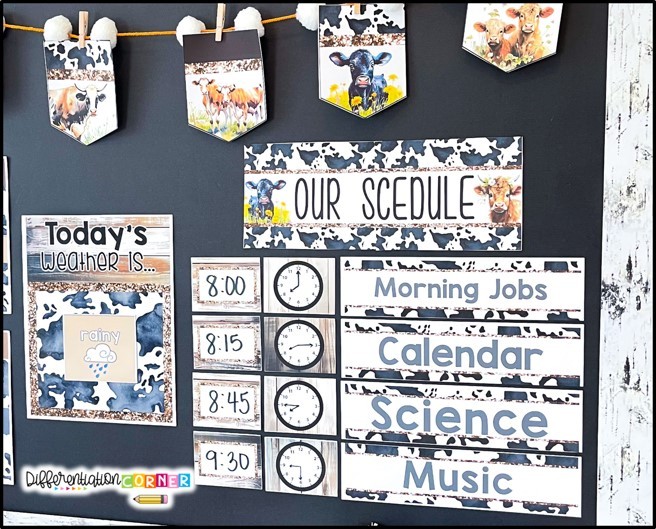 Classroom Calendar Wall in Cow Print Decor
Highlight important dates, events, and assignments using cow print accents. This cow print classroom calendar wall set has 2 styles of numbers, days of the week and months of the year to chose from! It also comes with a weather display and days in school tally chart! It's functional decor that makes sure everyone's on the same page. Plus, it gives your room that extra dose of visual flair. Perfect for your cow print classroom decorations.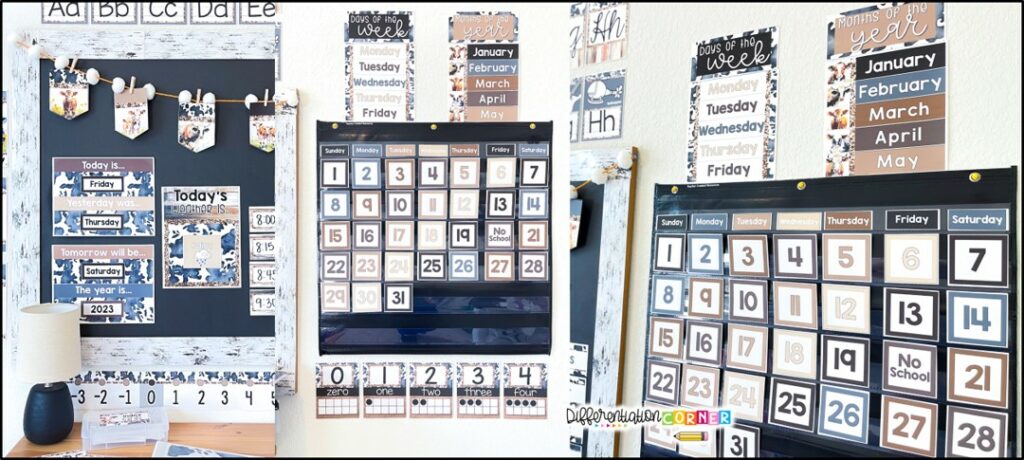 Herd Together with Cow Print Classroom Decorations
Rules Posters and Jobs Chart
Establishing classroom rules and expectations is essential for maintaining a peaceful and respectful learning environment. Why not do it with style? Design your own set of classroom rules and expectations with these editable cow print posters and display them prominently in your classroom. Or use some of the 16 rules posters I've already created. Each classroom rule is stated positively to reinforce good behavior.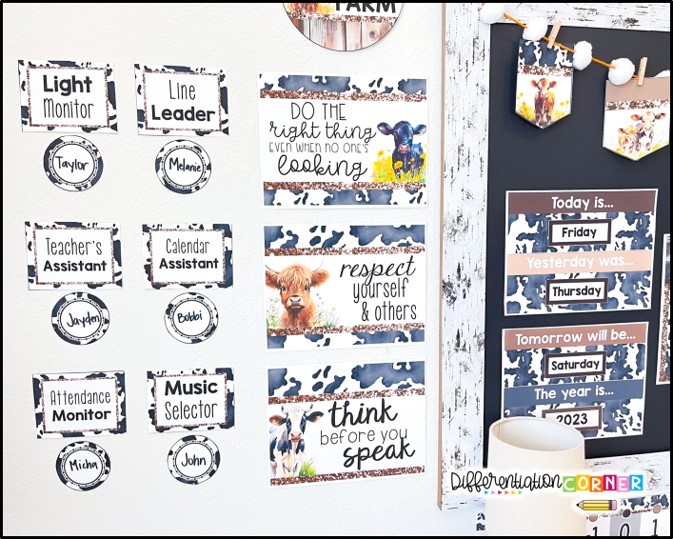 Classroom Management Pieces
Control the noise level on the farm… I mean classroom with this editable voice level chart. Minimize disruptions with these adorable cow print hand signals posters that you can customize to meet your needs. This cute behavior clip chart can be edited to match your school district's behavior system. These clow print classroom decorations are adorable with highland fluffy cow AND they're functional! WIN!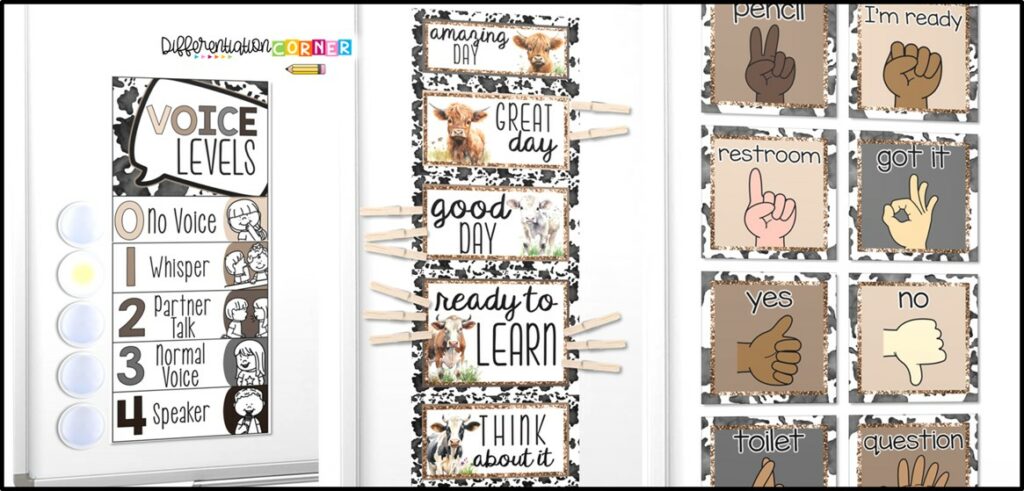 Unleash Your Inner Cow Whisperer
Cow print classroom decorations offer a unique blend of versatility, neutrality, and charm that can help create a warm, welcoming, and peaceful learning space. By customizing these decorations to fit your specific classroom needs, you can provide your students with an environment that encourages creativity, organization, and a sense of belonging. As you embrace the beauty of cow print, your classroom will become a place where both you and your students look forward to spending time together, fostering a positive and productive learning experience.
Farm Themed Classroom Decor Cow Print Bulletin Boards
Bulletin boards are an essential element of any classroom decor, and they offer endless opportunities for customization. Add a dash of cow print to your farmhouse classroom bulletin board for fun! Here are a few ideas:
Editable Banners- So many styles to pick from! Cow print, cows, barn wood and more! Perfect for any farm theme classroom ideas!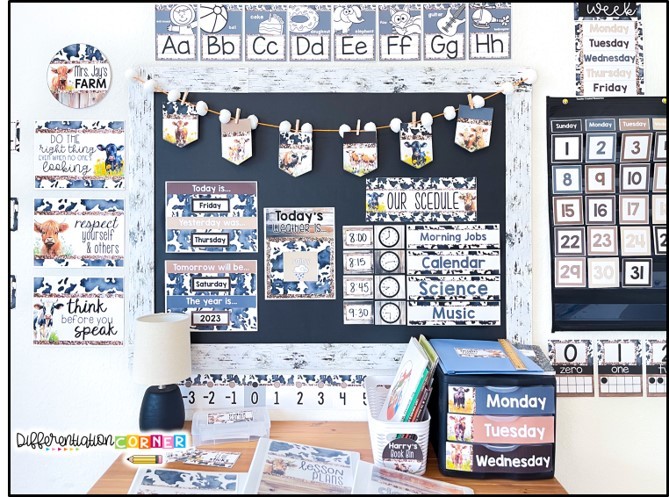 Editable Classroom Posters- Create any classroom posters with these adorable editable templates! Be sure to include the word MOO!
Bulletin Board Borders and Trim for Cow Print Classroom Decorations
Cow print borders and trims are like the stylish accessories that complete your outfit—subtle but oh-so-important. Cow print borders and trims can be an effective way to tie your classroom's decor together. 
Now for the fun part! No cow print classroom decor or farm classroom decor is complete without the perfect bulletin board borders! Grab your very own set of FREE cow print, barn wood, and highland cow printable bulletin board border. You can add the perfect accent to any display. Use them to outline everything from bulletin boards to whiteboards or even your classroom door frame. These accents will tie your decor together like a well run farm. There are 4 designs in the free download: highland cows, calves, cow print, and barn wood.
You'll never run out of farm fresh cow print classroom decor with this adorable bundle! 
Looking for tips and tricks for printable classroom decor?
The form you have selected does not exist.